Standard 4wd for Maximum Traction
Heavy duty drive train with a gear drive transmission 8F/8R
On-board diagnostics including Service Advisor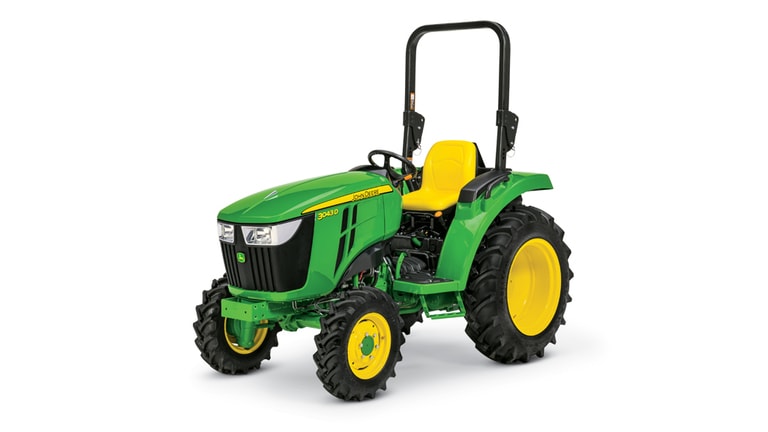 For power on the tough jobs and efficiency and precision on the tricky ones, trust the 3043D Compact Tractor's all-around performance by John Deere. The 3043D Compact Tractor is equipped to handle tough jobs without sacrificing operator comfort or maneuverability. Take the standard 4-Wheel Drive, for example; this helps the 3043D maintain traction in adverse conditions and gives operators more control in the field. Additionally, the reliable gear-driven transmission provides optimum tractor performance. This transmission is built with heavy-duty components and is designed to ensure a rugged and durable machine that continuously offers high-quality results. Get your online quote today from your local premier John Deere dealer, C & B Operations. 
Specifications
Specs & Compare
Specs & Compare

Select up to 4 models to compare specifications

John Deere

3043D

Compact Tractor
Key Specs
Engine power (gross)
31 kW
41.6 hp
Power take-off (PTO) power
27.1 kW
36.3 hp
Steering hydraulics
16.8 L/min
4.4 gpm
Implement hydraulics
22.4 L/min
5.9 gpm
Hitch type
Category 1
Lift capacity, 24-in. behind link arms
944 kg
2081.2 lb
Standard transmission; forward/reverse
8F/8R synchromesh shuttle shift gear transmission
Cruise control
No
Approximate shipping weight (open-station; cab)
Open operator station (OOS): 1288 kg
2840 lb
Cab: Not applicable
Wheelbase
1574 mm
62 in.
Engine
Family
Manufacturer
Yanmar®
Engine model
3TNV86CT-KJPT
Engine power (gross)
31 kW
41.6 hp
Power take-off (PTO) power
27.1 kW
36.3 hp
Rated engine speed
2800 rpm
Type
Injection pump type
High pressure common rail direct injection
Aspiration
Turbocharged
Emissions compliance
Final Tier 4
Cylinders/displacement
3 / 1.57 L
3 / 95.8 cu in.
Number of cylinders
Three
Cylinder liners
Cast-in-block
Bore and stroke
86 x 90 mm
3.39 x 3.54 in.
Compression ratio
19.1:1
Lubrication
Pressurized
Cooling system
Liquid
Air cleaner
Dual element
Engine torque at rated speed
105.7 Nm
78 lb-ft
Fuel tank capacity
36.7 L
9.7 U.S. gal.
Electrical
Battery size
600 CCA
Alternator (12-V)
55 amp
Starter size
1.4 kW
1.9 hp
Fuel system
| | | | | |
| --- | --- | --- | --- | --- |
| Type | High pressure common rail direct injection | | | |
| Fuel consumption | | | | |
Transmission
Standard transmission; forward/reverse
8F/8R synchromesh shuttle shift gear transmission
Optional transmission; forward/reverse
Left-hand reverser
Yes
Transmission gear ranges
Four gears and two ranges
Final drive
Spur gear
Brakes
Wet disk
Steering
Power steering
Clutch, wet/dry
Clutch disk diameter wet clutch
Axle capacity
Front
880 kg
1940 lb
Rear
1600 kg
3527 lb

Creeper
No
Cruise control
No
Differential lock
Yes
Drawbar maximum vertical load
Hydraulics
Type
Open center
Pump rated output
Steering
16.8 L/min
4.4 gpm
Implement
22.4 L/min
5.9 gpm
39.2 L/min
10.3 gpm
Pump type
Single gear
Maximum operating pressure
172 bar
2495 psi
Draft control sensing
Position control
Remote control valves available
Up to two (optional)
3-point hitch
Type
Category 1
Lift capacity, 24-in. behind link arms
944 kg
2081.2 lb
Power take-off (PTO)
| | | | | |
| --- | --- | --- | --- | --- |
| Standard | At 2400 rpm: 540 rpm | | | |
| Optional | | | | |
| Control | Mechanical | | | |
| Clutch | Transmission | | | |
| Brake (for mid and rear PTO) | Wet disk | | | |
| Engagement method | | | | |
Fluid capacities
Crankcase with filter
4.5 L
4.8 qt
Transmission and hydraulic system
33 L
34.8 qt
Final drive
| | | | | |
| --- | --- | --- | --- | --- |
| Type | Spur gear | | | |
| Differential lock | | | | |
Operator station
Rollover protective structure
Type
Foldable
ASABE S478
Platform - flat/straddle
Straddle
Gear shift location - console/floor
Right-hand side
Cab
| | | | | |
| --- | --- | --- | --- | --- |
| Compliance | | | | |
| Visibility | | | | |
| Air conditioning, temperature differential | | | | |
| Doors | | | | |
| Noise rating | | | | |
| Seat equipment | | | | |
Dimensions
Height
Wheelbase
1574 mm
62 in.
Front axle clearance
Minimum: 331 mm
13 in.
Maximum: 353 mm
13.9 in.
Turning radius with brakes
1.63 m
5.3 ft
Turning radius without brakes
Limited slip differential
Approximate shipping weight (open-station; cab)
OOS: 1288 kg
2840 lb
Cab: Not applicable
Tires
Front
R1 Bar: 7-14
R3 Turf: 27x8.5-15
R4 Industrial: 25x8.5-14
Rear
R1 Bar: 11.2-24
R3 Turf: 41x14-20
R4 Industrial: 15-19.5
Front tread range
Rear tread spacing
Miscellaneous
| | | | | |
| --- | --- | --- | --- | --- |
| Toolbox | Yes | | | |
| Tilt steering wheel | No | | | |
| 12-V Outlet | No | | | |