8-row model with 30-inch spacing
Folding capability to move between fields without a transport trailer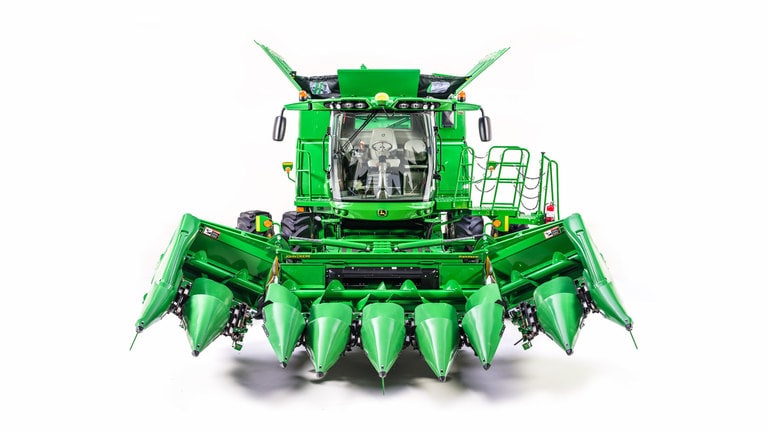 This season, trust the quality of John Deere corn head products to help you harvest more efficiently. The 708FC has the power and flexibility to help you harvest faster, and lose less product in the process. Find out how the 708FC's Precision Ag technology can help you this season at C & B Operations, your local premier John Deere dealer.
Specifications
Specs & Compare
Specs & Compare

Select up to 4 models to compare specifications

John Deere

708FC

Folding Corn Head
Key Specs
Approximate overall width
Rigid: 6.12 m
20.1 ft
Folded: 3.3 m
10.9 ft
Row spacings
76.2 cm
30 in.
Deck plate adjustment
Hydraulic adjustment
Gatherer chain adjustment
Spring loaded, self-adjusting
Gatherer chains
Heavy-duty, 620, endless steel roller chain with chromed pins (no master connecting link)
Corn Head
Gatherer points
Four-position, low-profile floating type hinged above gatherer chains
Center and outer gatherers
Hinged, quickly removable
Gatherer chains
Heavy-duty, 620, endless steel roller chain with chromed pins (no master connecting link)
Minimum clearance between gatherer chains and ground
32 mm
1.25 in.
Row unit drive
Enclosed, submerged-in-lubricant gearbox, driven by single input hexagon shaft
Gatherer chain adjustment
Spring loaded, self-adjusting
Stalk rolls
Fluted, opposed, intermeshing, and chopping (two per row-unit)
Deck plate adjustment
Hydraulic adjustment
Slip clutch
One per row-unit plus auger drive
Trash knives
Full-length, one-piece, heat-treated steel
Chopping options
Rotary
Dimensions
Approximate overall width
Points in operating position (lowered)
3 m
10 ft
Points folded up (service position)
2.7 m
9 ft
Rigid: 6.12 m
20.1 ft
Folded: 3.3 m
10.9 ft
Approximate shipping weight (includes shipping skid)
Non-chopping: 2958 kg
6523 lb
StalkMaster™: 3259 kg
7187 lb
Row spacings
76.2 cm
30 in.
Standard weight
Additional information
| | | | | |
| --- | --- | --- | --- | --- |
| Date collected | 19-Feb-2019 | | | |