Cummins QSX 15L
e18™ PowerShift Transmission
CommandView™ III Cab
Gen 4 CommandCenter™

HydraCushion™ Suspension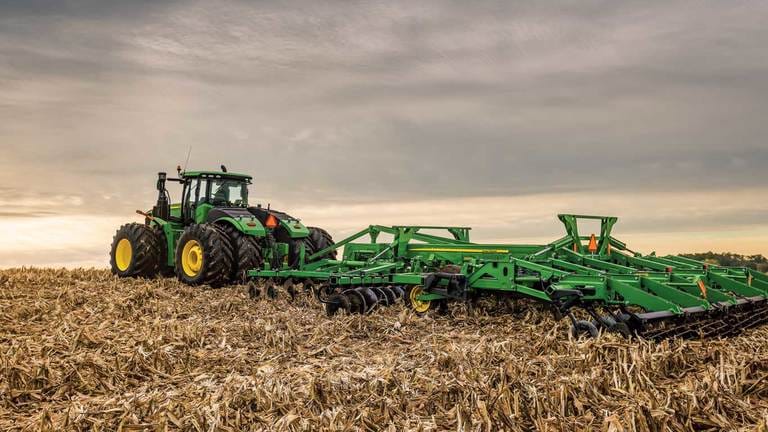 Specifications
Specs & Compare
Specs & Compare

Select up to 4 models to compare specifications

John Deere

9570R

Tractor
Key Specs
Engine description
Cummins QSX15 (B20 diesel compatible)
Engine displacement
14.9 L
912 cu in.
Rated engine power
419 kW
570 hp
Rated PTO power (hp SAE)
249 kW
335 hp
Transmission type
Standard: John Deere e18™ 18-speed PowerShift with Efficiency Manager™: 40 km/h
25 mph
Hydraulic pump rated output
Standard: 220 L/min
58 gpm
Optional: 435 L/min
115 gpm
Rear hitch category (SAE designation)
Category 4N/4: 6,804 kg
15,000 lb
Category 4N/4: 9,072 kg
20,000 lb
Base machine weight
19,690 kg
43,420 lb
Maximum PTO power
Maximum engine power
Engine specifications
Description
Cummins QSX15 (B20 diesel compatible)
Engine type
Diesel, in-line, 6-cylinder, wet-sleeve cylinder liners with 4 valves-in-head
Engine family
Rated speed
2,100 rpm
Aspiration
Single Variable geometry turbocharger with air-to-air aftercooling and cooled exhaust gas recirculation
Cylinders liners
Emission level
Final Tier 4
After treatment type
DOC/DPF/SCR
Displacement
14.9 L
912 cu in.
Engine performance
Rated power
419 kW
570 hp
Rated PTO power (hp SAE)
249 kW
335 hp
Power boost
10 percent
Engine peak torque
At 1600 rpm: 2631 Nm
3800 lb-ft
PTO torque rise
38 percent
Intelligent Power Management (available in transport and/or mobile PTO applications)
Maximum PTO power
Maximum engine power
Transmission
Type
Standard: John Deere e18™ 18-speed PowerShift with Efficiency Manager™: 40 km/h
25 mph
Reverser
Clutch; wet/dry
Creeper
Hydraulic system
Type
Pump rated output
Standard: 220 L/min
58 gpm
Optional: 435 L/min
115 gpm
Available flow at a single rear SCV
0.5 in. couplers: 132 L/min
35 gpm
Available flow at front SCVs
Number of rear selective control valves (SCVs)
Standard: ISO Couplers: 4-6
Optional: ISO Couplers: 7-8 (field installed)
Number of mid selective control valves (SCVs)
Number of front selective control valves (SCVs)
Joystick SCV control
SCV control
Electronic
Rear hitch
Hitch draft control load sense type
Remote control valves available
Hitch category (SAE designation)
Category 4N/4: 6,804 kg
15,000 lb
Category 4N/4: 9,072 kg
20,000 lb
Maximum lift capacity behind lift points
Category 4N/4: 9,072 kg
20,000 lb
Sensing type
Electrohydraulic with draft sensing
Rear axle differential lock
Lift capacity at standard frame
Drawbar
Drawbar category
Category 5
Maximum vertical load
5,440 kg
12,000 lb
Rear power take-off (PTO)
Type
Independent
44 mm (1.75 in.) 20-spline, 1,000 rpm
Engine rpm (at rated PTO speeds)
PTO actuation
Ground speed PTO option availability
Multispeed PTO option availability
Front hitch
| | | | | |
| --- | --- | --- | --- | --- |
| Category | | | | |
| Electric power | | | | |
| Standard lift capacity | | | | |
| Front power take-off (PTO) | | | | |
| PTO speed | | | | |
Rear axle
Type
Standard: Diameter: 120 x 3,048 mm
4.72 x 120 in.
Final drive type
Inboard planetary with double-reduction axle
Differential controls
Axle type
Brakes, type and control
Rear differential lock
Full-locking electrohydraulic
Load rating
Front axle
Type
Standard: Diameter: 120 x 3,048 mm
4.72 x 120 in.
Front axle differential lock
Full-locking electrohydraulic
Load rating
Tires
Front
Rear
Wheel tread range
Turning radius with brakes
Turning radius without brakes
Group 47 tires: 6,035 mm
19.8 ft
Steering
Type
Standard: Hydraulic power-steering
Optional: ActiveCommand™ Steering (ACS)
Electrical system
Alternator size
Standard: 200 amp
Optional: 240 amp
Battery options
12 V
Total cold cranking amps
925 CCA
Type of bulb in beacon (Halogen, Zenon, LED)


Type of bulb in headlight (Halogen, Zenon, LED)


Working lights
dB(A) rating for backup alarm
Operator station
Rollover protective structure, OOS



Seat
Standard: ComfortCommand™
Optional: ActiveSeat™
Cab suspension
Instructional seat
Standard
Display
Standard: 4100 Generation 4 CommandCenter™ with 7 in. display
Optional: 4600 Generation 4 CommandCenter with 10 in. display
Radio
Standard: AM/FM stereo with weatherband, remote controls, auxiliary input jack, four speakers and external antenna
Inner cab volume
3.597 m3
127 cu ft
dB(A) rating
Cab glass area
6.52 m2
70.18 sq ft
Front visibility
Safety glass rating
Dimensions
Wheelbase
3912 mm
154 in.
Overall length
With front weights, excluding hitch and coupler: 7,697 mm
303 in.
With front weights, including hitch and coupler: 8,416 mm
331.3 in.
Drawbar clearance
Group 48 tires: 419.1 mm
16.5 in.
Front axle center
Approximate shipping weight, Open;Cab
19,690 kg
43,420 lb
Overall height
Weight
Base machine weight


19,690 kg
43,420 lb
Maximum ballast level
27,216 kg
60,000 lb
Maximum permissible weight
Capacities
Crankcase oil volume
43.5 L
11.5 U.S. gal.
Fuel tank
1,514 L
400 U.S. gal.
Diesel exhaust fluid (DEF) tank
83 L
22 U.S. gal.
Cooling system
62 L
16.3 U.S. gal.
Transmission-hydraulic system
With 3-point hitch and PTO: 227 L
60 U.S. gal.
Without 3-point hitch and PTO: 220 L
58 U.S. gal.
Serviceability
| | | | | |
| --- | --- | --- | --- | --- |
| Interval for engine oil change | 400 hours | | | |
| Interval for hydraulic/transmission oil change | 1,500 hours | | | |
| Interval for engine coolant change | 6,000 hours | | | |
Loaders
| | | | | |
| --- | --- | --- | --- | --- |
| Loader | | | | |
| Lift capacity at full height | | | | |
| Maximum lift height | | | | |
Precision AG
| | | | | |
| --- | --- | --- | --- | --- |
| Guidance | AutoTrac Ready | | | |
| Telematic | Available with JDLink™ hardware, activations, and Ethernet Harnesses (availability dependent upon destination) | | | |
| Remote diagnostics | Available with activated JDLink™ hardware and activations | | | |
Miscellaneous
| | | | | |
| --- | --- | --- | --- | --- |
| Country of manufacture | USA | | | |
| Side slope rating | | | | |
| Uphill/downhill slope rating | | | | |
Tracks
| | | | | |
| --- | --- | --- | --- | --- |
| Drive type | | | | |
| Midrollers | | | | |
| Track width | | | | |
| Tread spacing | | | | |