Combine Advisor™ package helps to set, optimize and automate main combine functions when conditions change
Fully automated yield sensor calibration with ActiveYield™ supplies accurate data with no time spent calibrating
Comfortable S700 cab is common with tractors and sprayers for ease of use
Continued quality manufacturing of S-Series combines maximizes uptime and productivity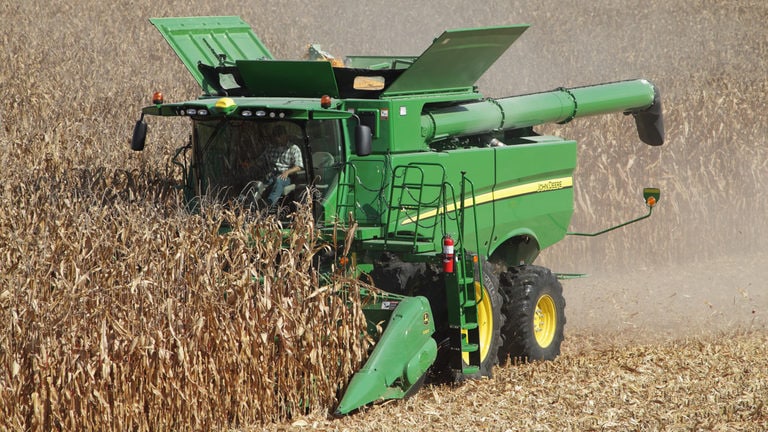 See why Real Combines Are Green with the incredible performance and efficiency of the S760 Combine by John Deere. These combines are built to help operators harvest as quickly and efficiently as possible, all while reducing the amount of downtime they experience throughout the season. Plus with John Deere quality, you spend less on maintenance and feel confident in your machines and their performance.  Find out more, and get a quote online, by visiting your local premiere John Deere dealer, C & B Operations.
Specifications
Specs & Compare
Specs & Compare

Select up to 4 models to compare specifications

John Deere

S760

Combine
Key Specs
Engine type
John Deere PowerTech™ PSS engine
9 L
548 cu in.
Rated power
249 kW
333 hp
Fuel capacity
950 L
250 gal.
Rotor length
312 cm
123 in.
Rotor diameter
76.2 cm
30 in.
Concave area
1.1 m2
11.8 sq ft
Separating area
1.54 m2
54.9 sq ft
Total cleaning area (louvered)
5.1 m2
54.9 sq ft
Grain tank size
10,600 L
300 bu
Unloading rate
116.3 L/s
3.3 bu/sec
Engine
Engine type
John Deere PowerTech PSS engine
9 L
548 cu in.
Emission level
Final Tier 4 / Tier 2 (Australia/New Zealand)
Rated speed
2,200 rpm
Rated power
249 kW
333 hp
Power boost @ rated speed
25 kW
34 hp
Fuel capacity
950 L
250 gal.
Engine family
Feeding
Drive type
Fixed or variable
Conveyor chain slat type
Cast iron
Width
139.7 cm
55 in.
Length
172.5 cm
67.9 in.
Feed Accelerator, Stone Trap (FAST)
Reverser
Standard
Standard
Threshing/ Separating
Separator type
Rotary
Rotor length
312 cm
123 in.
Rotor diameter
76.2 cm
30 in.
Rotor speed range
210-1,000 rpm
Concave area
1.1 m2
11.8 sq ft
Separating area
1.54 m2
16.6 sq ft
Discharge grate area
0.36 m2
3.9 sq ft
Cleaning
Front chaffer
0.5 m2
5.4 sq ft
Front chaffer extension
Pre cleaning
Chaffer
2.5 m2
26.9 sq ft
Sieve area
2.1 m2
22.6 sq ft
Total cleaning area (louvered)
5.1 m2
54.9 sq ft
Cleaning fan speed
620-1,350 rpm
Grain handling
Grain tank size
10,600 L
300 bu
Unloading auger length
6.9 or 7.9 m
22.5 or 26 ft
Unloading rate
116.3 L/s
3.3 bu/sec
Base weight - less head
Total machine
18,400 kg
40,565 lb
Manufacturing location
| | | | | |
| --- | --- | --- | --- | --- |
| Country | USA, East Moline, Illinois | | | |
Additional information
| | | | | |
| --- | --- | --- | --- | --- |
| Date collected | 27-April-2018 | | | |